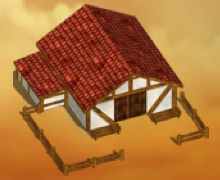 The Stable is where you can recruit
cavalry
. A higher level Stable will grant you a faster recruitment rate of cavalry
units
. To construct a Stable, you must upgrade your
City Hall
to Level 10,
Barracks
to Level 5 and
Forge
to Level 5. You will also have to spend initial
resources
to research the type of Cavalry unit you want before you can begin recruiting.
Maximum level: 20
Note: Upgrade time will vary based on the level of your City Hall.
Upgrades

| Level |  Wood |  Clay |  Iron |  Men | Build Time |
| --- | --- | --- | --- | --- | --- |
| 1 | 270 | 240 | 260 | 1 | 27:40 |
| 2 | 340 | 310 | 330 | 1 | 34:18 |
| 3 | 430 | 390 | 410 | 2 | |
| 4 | 600 | 510 | 520 | 2 | |
| 5 | 680 | 640 | 660 | 2 | |
| 6 | 860 | 820 | 830 | 3 | |
| 7 | 1,200 | 1,070 | 1,040 | 3 | |
| 8 | 1,360 | 1,350 | 1,310 | 3 | |
| 9 | 1,900 | 1,770 | 1,650 | 4 | |
| 10 | 2,160 | 2,220 | 2,080 | 5 | |
| 11 | 2,720 | 2,840 | 2,620 | 6 | |
| 12 | 3,430 | 3,630 | 3,300 | 6 | |
| 13 | 4,320 | 4,650 | 4,160 | 8 | |
| 14 | 5,450 | 5,950 | 5,240 | 9 | |
| 15 | 6,860 | 7,620 | 6,600 | 11 | |
| 16 | 8,650 | 9,750 | 8,320 | 12 | |
| 17 | 10,900 | 12,480 | 10,480 | 14 | |
| 18 | 13,730 | 15,980 | 13,200 | 17 | |
| 19 | 17,300 | 20,460 | 16,640 | 20 | |
| 20 | 21,800 | 26,190 | 20,960 | 24 | |